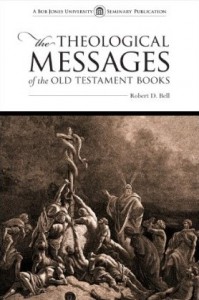 Dr. Robert Bell's book The Theological Messages of the Old Testament Books contains a wealth of information and serves as a useful resource for Bible students at both the intermediate and advanced levels. The book begins with an introduction to the discipline of biblical theology and an explanation of the book theology method utilized in the content chapters. Following this introduction, Bell presents the theological messages of the Old Testament books in thirty-three chapters (combining Judges & Ruth; 1 & 2 Samuel; 1 & 2 Kings; 1 & 2 Chronicles; and Obadiah, Joel, & Zephaniah). The book concludes with four appendices (bibliography of book theologies, sermon on a theological theme, sermon on a book theology, and a chart of each book's theme) and an author index.
The methods followed in this book are the analysis of structure, the analysis of vocabulary, and the analysis of themes. The content chapters do not follow a strict format for the analysis of their book(s), but present the message in a way that reflects the prominent analysis method (structure, vocabulary, or theme). In each chapter, Bell presents significant amounts of data (usually in chart or list format), clear explanations of how that data informs his conclusions, and the conclusions themselves. This allows the reader to both learn the theological message of each book and see the connections between Scriptural data and theological conclusions.
While portions of this book may be challenging to a Bible-student beginner, The Theological Messages of the Old Testament Books is a valuable resource. It serves as an excellent reference, full of theological details and exegetical data.  The book is not merely academic, however. Each chapter also contain a Christ-ward conclusion that provides devotional value.
The Theological Messages of the Old Testament Books is available on Amazon.com.
A brief description of three chapters, one from each OT section (historical, poetic, and prophecy) will provide a helpful sample of this book's contents.
Samuel
Following the original Jewish pattern, Bell treats 1 & 2 Samuel as a single historical book. The four main topics are Yahweh, priest, prophet, and king. He notes that the structure of the book can be divided into four character-based sections (Eli -> Samuel, Samuel -> Saul, Saul -> David, David -> Solomon) and six chiastically arranged appendices (two narratives, two psalms, two records of David's men). Through these sections, he traces the themes of pride and humility as they play out in the lives of each character, major (Samuel, Saul, David, et al) or minor (Goliath, Nabal, Ahithophel, et al).
Job
Bell identifies the dialogue structure of the book and the unusually high concentration of questions and interrogative words. He presents the following organization of theological truths as lessons to be gained from Job:
Regarding Man

Man is a sinner.
It is possible for a human to serve God piously with unselfish single-mindedness.

Regarding Satan

Satan investigates the men of the earth.
Satan accuses the saints before God.
Satan is as cruel as possible to the saints.
Satan can work his evil only as God allows him.

Regarding God

God notices and values the righteousness of the saints.
God is good and therefore just.
God is the powerful sovereign Creator.
God is wise beyond man's comprehensions.

Regarding Revelation

God has revealed Himself to mankind.
The truth about God is not always evident from our outward circumstances.
Isaiah
Isaiah, according to Bell, is "ideal for the book-theology method" (282). It deals with the three most prominent theological themes: God, man, and redemption.
God: The names of God used in Isaiah (charts included) reveal that He is holy, unique, and sovereign.
Man's Sin: Isaiah uses six different terms to describe man's sin, summing up them up in two ideas: pride and unbelief.
God's Plan for Mankind: Judgment is necessitated by God's holiness and is often executed through human agents. The Savior, however, comes to provide deliverance and redemption. He is described as a child, king, servant, branch, stone, and light.
The only way for justly condemned sinners to appropriate this deliverance is "faith … in the Savior" (298). Bell notes that the full Messianic theology of Isaiah makes it a valuable and powerful source for Gospel preaching.